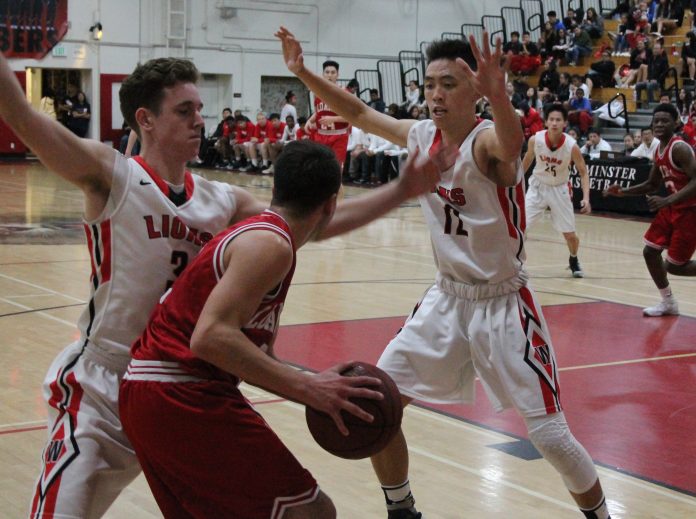 By Ted Apodaca
Westminster High trailed Loara High, 31-30, at halftime, but found its second gear in the third quarter in  a game recently at Westminster High.
The Lions outscored the Saxons, 24-10 in the third en route to a 75-65 win in a Golden West League game that put the Lions into second place in Golden West League play.
Westminster High finished the season with a 7-3 record and second place finish in league, and 13-13 overall.
Westminster High finished tied for fourth last year but has seen a turnaround this year, with the help of some young talent.
Freshman Joshua Lee and Sophomore Isaiah Lee have given the Lions a shot in the arm.
As a young team, however, the Lions are still figuring out how to compete at the varsity level. Against Loara, the Lions started strong, but faltered in the second quarter as the Saxons took a slim lead heading into halftime.
"We're still learning how to close out games," Lions Head Coach CJ Hollingsworth said.
The Lions ramped up their intensity in the third quarter and quickly regained the lead. They began to pull away about midway through the quarter. A steal and break led to an offensive rebound and put back by junior center Anthony Nguyen that gave the Lions a 49-37 lead.
With a minute left in the quarter, Joshua Lee made a steal and took the ball the length of the court for a slam dunk that ignited the gym and put the Lions up 54-37. Loara made a run to start the fourth, getting as close as 56-49 before the Lions regained control.
Joshua Lee led the Lions with 21 points and Isaiah Lee had 18 points. Senior guard Tylor Pham had 14 points and Anthony Nguyen chipped in eight points.
Loara was led by junior guard Jon Illeleji, who had a game-high 24 points. Senior forward Klaus Fieberg had 11 points and senior guard Adrian Moldovan added 10.
Playoff matchups had not been announced at press time.
Photos by Ted Apodaca
Westminster High's Tylor Pham, right, and Noah Melbon pressurea Loara High player.