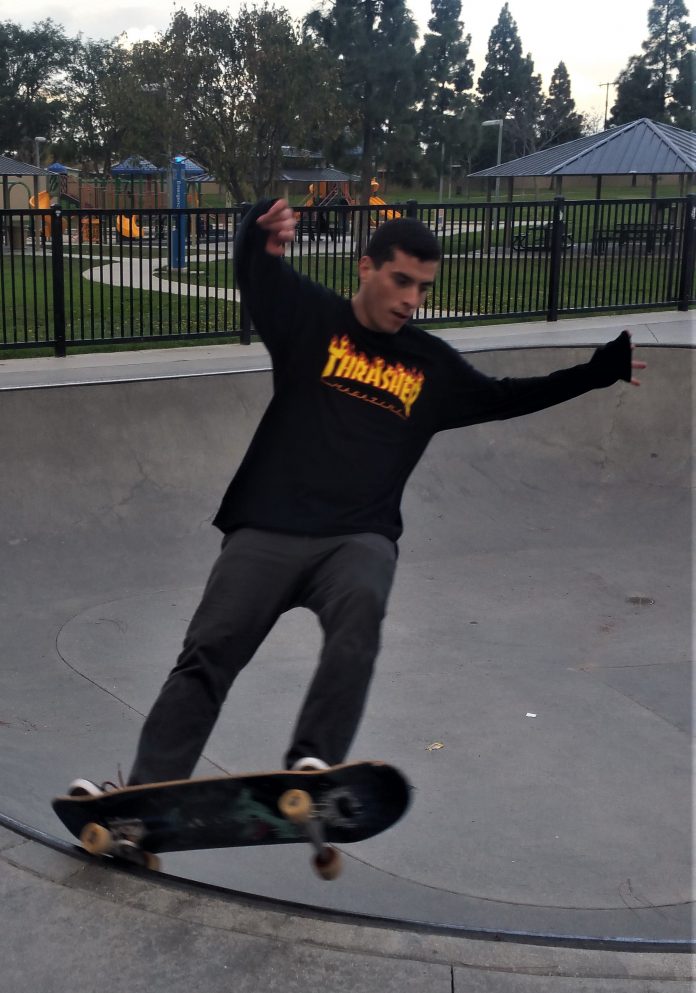 By Colleen Janssen
"This is a great place," said Suzy Swanson.
One would think the mother of three children, ages 11, 10, and 7, was at the skate park at Liberty Park, 13900 Monroe St., to watch her kids skate, but that's far from the truth.
"I started to get them interested. They tell me I'm a cool mom."
That's right, Swanson is the skater at the park, not her children.
"I've lived here for five years, but just started coming to this park," said Swanson. "I used to play roller derby. This is my passion. I come when my kids are at school."
To say she is the exception to the rule at the park is an understatement. The majority are teens and young men. "I meet young kids, everyone takes turns; they are respectful and the older ones mentor the younger ones.  This is a neat place and it's free."
Ed Lopez was there the same day while school was out for the holidays to watch his son, Erick, age nine.  "He only comes on weekends and time off school. You gotta keep an eye on them."
Lopez watched his son ride his scooter across the bowls. "I like scootering," said Erick. "I like it because there are ramps." His father likes the skate park feature. "It's pretty nice compared to other ones."
The next day, the park was filled with young men, typically ages 16 to 25. The mood was much different and showing off skateboarding skills was paramount.
"I've skated here for about four years," said Oliver Rodriguez, 21. "I've been skating since age 10."
He likes the park since most of the people there are locals. "They know the rules.  At the bigger parks there are tourists. They don't know the rules and that is a problem."
"I am a professional skater on the team from Ogre Skateboards in Huntington Beach."
His skills were undeniable.  He moved through the park with grace and speed, doing trick skating. His picture is featured as a rider on the Ogre Team section of the website www.ogreskateboards.com.
"This is wonderland for us," said another skateboarder, Kevin Rascol, 19. "I've been coming here since I was 14 and skating since I was seven."
Rascol skateboards, surfs and snowboards.  His smooth technique shows years of practice.
"I surf Newport at the Wedge and come here to skate."
Rascol and Rodriguez took turns doing trick skateboarding, then entered the bowl at the same time.  Their experience showed in the way they instinctively knew where each other was skating and could avoid colliding while still doing tricks.
The park is open daily to the public with the skate park frequently a busy amenity. The park is 6.4 developed acres with an activity building, barbecues, basketball court, children's play area, picnic tables, covered picnic shelter and restrooms. It is conveniently located off Westminster Boulevard, near Beach Boulevard, across from City Hall.
Photos by Colleen Janssen
Professional skateboarder, Oliver Rodriguez, 21, demonstrates his technique at Liberty Park in Westminster.  Rodriguez is a rider on the skate team for Huntington Beach-based Ogre Skateboards.