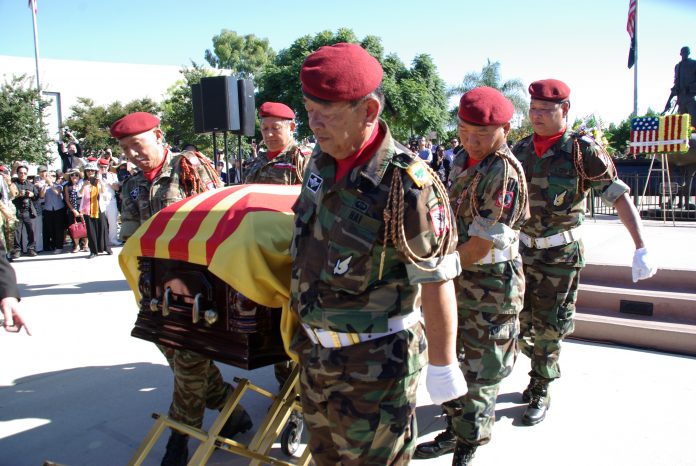 By Loreen Berlin
The City of Westminster and the Lost Soldiers Foundation, worked together to honor and lay to rest 81 unidentified South Vietnamese soldiers on Saturday.
The memorial ceremony began at Sid Goldstein Freedom Park on All American Way in Westminster and culminated with a procession to the Westminster Memorial Park, as final resting place for the "Lost Soldiers."
It's hard to imagine how that many servicemen could get lost for such a long time — 54 years — but it was war time and unlike the Americans they fought alongside, whose government documented their leaving and returning on tours of duty, the Vietnamese didn't have time to do that; they were in the midst of a battle for their lives and their country; they were told, "Go." That made record keeping nearly impossible.
Heading the non-profit Lost Soldiers Foundation are former Sen. James Webb (also former Secretary of the Navy and a Vietnam War veteran), Ret. USMC Col. Gene E. Castagnetti and Vietnam veteran and lawyer Jeffery E. McFadden.
Webb gave details of how the unknown soldiers were shot down in a U.S. military C-123 during the Vietnam War, along with four American soldiers who were identified at the time.
"We should never forget those who stand beside us in hard times," he said. "The crash site, located in a contested and inaccessible area, was not visited until 1974. Bone fragments and some personal paraphernalia were gathered there, with the recovered remains being commingled into a large casket. The remains were shipped to Bangkok and later to Hawaii. The American crew members were later identified through DNA and given proper interment; however,  there wasn't a flight manifest for the South Vietnamese soldiers."
Fast forward to 2019. A few days before the memorial ceremony, an American Air Force plane carried the remains of the 81 soldiers of the former South Vietnamese Army from Hawaii  (where they had been stored) to California for a full military ceremony honoring their service, in Westminster, home of Little Saigon, which is also home to the largest contingency of Vietnamese people outside of Vietnam itself.
The soldiers were laid to rest near a commemorative marker in Westminster Memorial Park, in what has also become the largest Vietnamese-American cemetery in the United States.
The commemorative monument reads, "Perished in the cause of freedom Dec. 11, 1965; Forever together in America, Oct. 26, 2019 – 81 Army of the Republic of Vietnam (ARVN) 72nd Company, 7th Airborne Battalion."
"This final resting place marks a complicated, 54-year journey that began on a long-forgotten battlefield during a vicious war that tore apart our country and resulted in the deaths of 58,000 Americans and millions of Vietnamese," said Webb. "In 1986, the soldiers remains were sent to the U.S. military's POW/MIA lab in Hawaii, which is responsible for identifying those lost or missing during the nation's wars,  but we may never know the names of those who were lost."
Webb said the Hanoi government declined to accept the soldiers for proper burial in Vietnam, considering the soldiers enemies, and that because they weren't American citizens, there wasn't a clear way for them to be buried and properly honored in the United States. Thus they became unknown soldiers and, "Men Without a Country."
Webb said his own guidepost to move forward with negotiations for a proper burial for the lost soldiers, to be remembered with honor and dignity, was a statement by former British Prime Minister William E. Gladstone: "If we are who we say we are as a nation and as a people, we should care not only for our own dead but also for those who served alongside us under great peril."
Webb said the memorial remembers the courage and contributions of hundreds of thousands of Vietnamese refugees "Who took to the sea during a perilous time, risking everything to come to America. The ceremony also honors the ideals of democracy and serves as a reminder of the hundreds of thousands of other soldiers who lost their lives and the thousands of others whose remains might never be found — it's a sad and epic journey of lost soldiers from the battlefields of Vietnam, providing closure for many others who paid their own price and made their way to America."
"It allows our nation to remember and appreciate the contributions of the 2 million Vietnamese-Americans who helped make us a stronger and more vibrant society," added Webb,  "and it's a reminder of who we are as Americans, and who we should always aspire to be: a people who treasure human life, and who will never forget those who stood beside us during extraordinarily difficult times."
Westminster Vice-Mayor Kimberly Ho, on behalf of the City Council, presented a "Proclamation in Remembrance of the 81 Airborne Rangers of the Republic of Vietnam Last Soldiers" to Webb in thanking him for his work to establish the Lost Soldiers Foundation.
"We commend you for your great work and dedication in bringing our 81 Angels home," she said.
Westminster Mayor Tri Ta said, "Like the statue standing here  at Freedom Park, our American and South Vietnamese military brothers stood tall and strong together in life. They fought together under the guiding principle of freedom, with a bond that gave our 81 lost Vietnamese Red Beret Angels the opportunity to rest in the same land that embodies the core ideals of democracy and freedom — valued by all who sacrificed their lives in the Vietnam War. Today's ceremony gives us the privilege of paying formal tribute to these 81 solders. Let this story be the passion of future generations, of our children and children's children to be inspired to continue the mission of fighting for freedom.  Today we say, 'Welcome home.'"