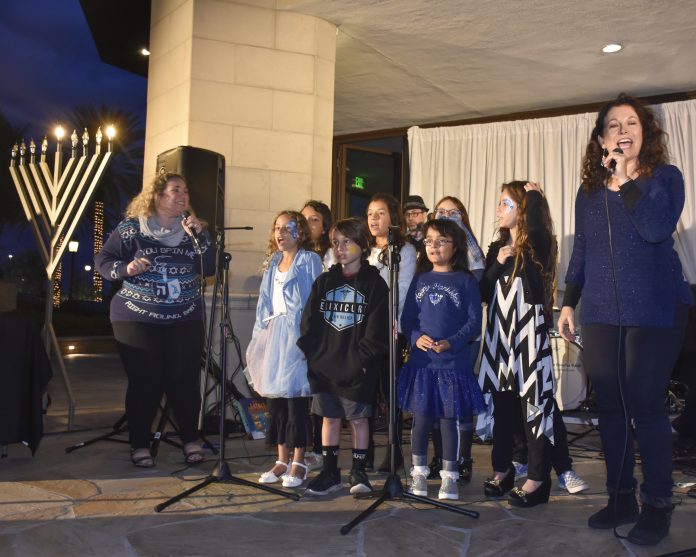 By Loreen Berlin
Westminster's Temple Beth David began its Hanukkah celebration at Bella Terra in Huntington Beach over the weekend by lighting the first candle of eight on the Menorah Sunday evening.
Hanukkah means "dedication," and is the eight-day Jewish commemoration of the Jewish people rising up against the Greek-Syrian oppressors in the Maccabean Revolt and the rededication of their Second Temple in Jerusalem during the second century B.C.
The festival celebrates a time in history that took place in Judea when the Jewish people were ordered to abandon their Torah and worship Greek gods.
Hanukkah 2019 began at sundown Sunday, Dec. 22, and continues through Monday, Dec. 30, where the first candle and successive candles will be lighted on the Menorah.
The evening also included blessings, entertainment, games for the children and festive foods; the children sang on stage and there was storytime for the children, along with a performance by the South Coast Simcha Band, with DJ Moses.
The eight candles symbolize the number of days the Temple lantern stayed lit, even though the Jewish Talmud records that there was only enough consecrated oil to light the candelabra for one night.
The ninth candle, in the center of the Menorah, is a helper candle used to light the other eight candles. Jewish families light one candle on the first night through the eighth night in their own homes after sundown, while saying prayers and singing songs.
The Hanukkah event at Bella Terra was coordinated and designed by Lisa Cohen, director of "Creative Parties for Kids." Cohen said her intention in putting the event together was to create and design an amazing evening that would be inclusive and make everyone feel welcome.
Cohen said she had the pleasure of working with Jenna Sagan, who is the Cantorial soloist at Congregation B'nai Tzedek, who while a teenager and into her 20s used to work for Cohen.
"Jenna would dress as a princess for creative parties for children's events and then went on to study at UCLA in both theater and music and we worked together to produce the Bella Terra event," said Cohen.
"Coming from an eclectic and open-minded background, I believe that tolerance begins with knowledge and by opening up the Hanukkah event to everyone in the community, it gives people a chance to learn about one another's cultures and traditions and helps the community come together," said Cohen . "We love Bella Terra and it has been a total joy creating and holding both the Hanukkah and Christmas events at the same time at Bella Terra this year.