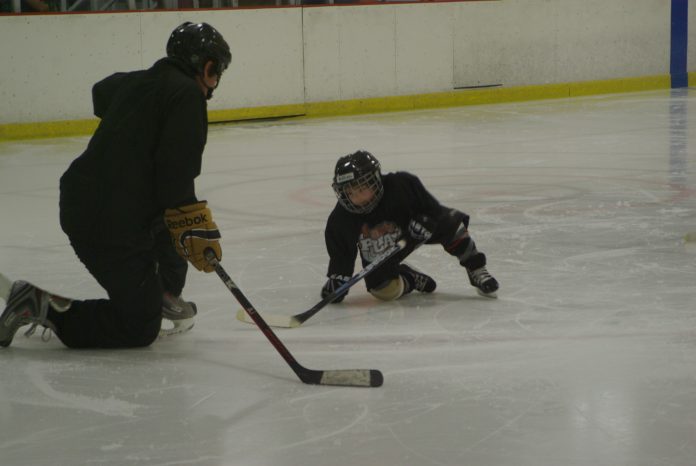 By Loreen Berlin
Orange County News
Saturday was the launch of this year's "Anaheim Ducks Learn to Play Program," presented by Reebok at The Rinks Westminster ICE, 13071 Springdale St., in Westminster.
The program gives all first-time hockey players the chance to get on the rink in full hockey equipment for free. Participants receive instruction from The Rinks coaching staff on how to skate properly while implementing some of the basic skills of hockey such as passing, shooting, and stick handling, as they go through hockey drills.
"It's a free program designed for new hockey players 4-to-10 years of age for four weeks," The Rinks and Ducks Marketing Manager Jesse Chatfield said. "We provide free head-to-toe gear and skate rental – with the goal to introduce kids to hockey."
Each participant is provided an equipment bag, helmet, shin guards, hockey pants, elbow pads, shoulder pads, gloves, stick and a jersey, which they keep during the four weeks of the session, giving them the opportunity to practice what they learn between weekly sessions. Skate rentals are provided for free at each rink as well; use of full hockey equipment allows the kids to get the feel of skating in full hockey gear, allowing them to experience the sport as a whole without taking on the financial commitment of purchasing all the equipment.
"The program is going great; last year we had 750 new participants try hockey for the first time," Chatfield said. "We started the program three years ago so we could introduce people to the sport of hockey."
Chatfield said there is usually a lot of up-front cost with hockey, not only with registration, but all of the required gear to play the game.
"We introduce hockey to the kids without the parents having to come up with out-of-pocket expenses and parents get a chance to see if their child likes the sport without any financial commitment."
The Anaheim Ducks Learn to Play Program is offered at Westminster ICE, Yorba Linda ICE, Corona Inline, Huntington Beach Inline and Irvine Inline.
Hockey is something the whole family can do together and have fun for an evening or afternoon.
The Anaheim Ducks Foundation serves as the team's main charitable beneficiary.  Introduced at the opening of the 2008-09 season, the mission of the Anaheim Ducks Foundation is to facilitate and support programs that produce positive change for children and families throughout Southern California by providing educational opportunities, broadening access to the sport of hockey and addressing the health and wellness needs of our community.
For information and to sign up, visit www.anaheimducks.com/learntoplay
Loreen Berlin can be reached at loreenberlin@verizon.net
Photos by Loreen Berlin
Children 4 to 10 years of age can learn how to skate and play hockey free at The Rinks Westminster ICE Saturdays at 2:10 p.m. The program is sponsored by the Anaheim Ducks Foundation. Here a skater gets some help from an instructor.