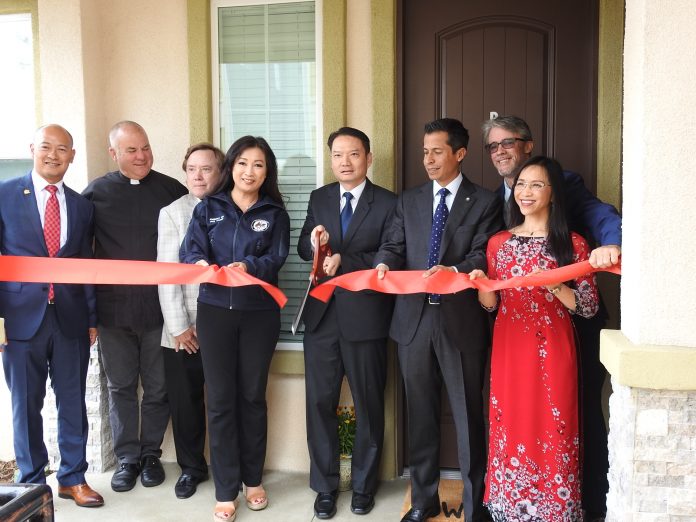 The City of Westminster, American Family Housing and the Wells Fargo Foundation hosted a ribbon cutting ceremony and open house on July 18 for the newest affordable housing, at 13811 Locust St. in Westminster.
The event brought together elected officials Mayor Tri Ta, Vice Mayor Kimberly Ho, Councilman Sergio Contreras, community partners, and neighbors to celebrate the latest addition of affordable homes in the city.
Mayor Ta spoke of the impact this development will have on tenants.
"Everyone needs a safe, clean, decent place to live and raise a family," Ta said. "Finding that housing at an affordable price is one of the biggest challenges our residents face – not just in Westminster, but all over the county and the state."
"We read about it every day in the newspapers, and it can feel daunting," Ta added. "It's a complicated problem, without a clear solution. But as we see here today, progress can be made by working together. We are so proud to be a part of this project, and thrilled to have so many great partners that brought this vision to life. But most importantly, today we get to bring three families home to Westminster. So welcome home! We're so happy you're here."
The City of Westminster, American Family Housing and the Wells Fargo Foundation demonstrated their commitment to help low-income families attain their dreams for a safe place to raise their children.
Three homes now stand on a standard residential parcel that previously featured just one small residence.
The three families gave tours of their homes following the ceremony. Each of the new homes comes complete with a fully-appointed kitchen, laundry room, garage, and drought-tolerant landscape.
"We're very excited to see another partnership with the City of Westminster come to fruition," said Milo Peinemann, American Family Housing CEO, during the ceremony. "This is not only a way to provide affordable housing for three large families in need, but also sets an example of how high-quality infill development can add to our housing stock in ways that enrich us and bring more investment to our existing neighborhoods. Kudos to the city for being so innovative in its efforts to address the housing crisis."
The 2019 Homeless Count showed that 6,860 people are living without housing in Orange County alone. American Family Housing targets at-risk populations including veterans, families with a disabled household member, and vulnerable adults with barriers to housing stability, such as mental illness.