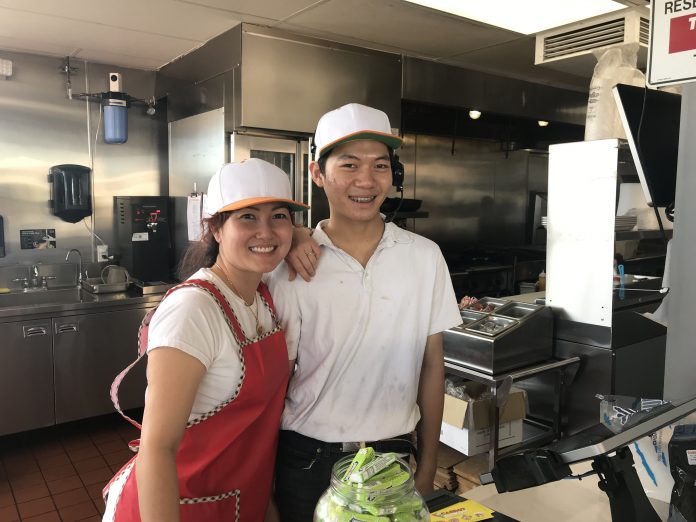 By Brady Rhoades
A major upside of working in Garden Grove — on the border of Westminster — is that I get to enjoy pho at a new eatery every week.
But until last Friday, I had not tried banh mi, a Vietnamese-style baguette.
So I lunched at Carrot & Daikon Banh Mi on Westminster Avenue and… I can't believe I waited this long.
Three words: fresh, tender, tasty.
We ordered the classic and lemon grass beef banh mi baguettes, a side of pork spring rolls, all washed down with spicy pineapple tea and mung bean milk tea.
The classic (pork roll and cured pork) is the most popular item at Carrot & Daikon for a reason. The pork is layer-upon-layer of taste, and cooked to juicy perfection. Complementing the meat are butter, jambon, pickled carrots and daikon, shredded scallions, onion, cilantro, fresh cucumber, jalapenos, salt and pepper and house special sauce.
The sandwich satisfies all tastes: sweet, sour, salty, bitter, and umami. It's served on a French-style baguette that's wonderfully flaky on the outside and soft and sumptuous on the inside. A cousin to butter, without a doubt.
It's best to chew slowly and enjoy the myriad tastes, though it's so good you can't wait for your next bite.
The lemon grass beef banh mi sandwich is served with grilled onion, pickled carrots and daikon, cucumber, jalapenos, cilantro, aioli and house special sauce.
"This beef is better than you get at a 5-star steakhouse," my friend said.
I agree. It's a spectacular sandwich, but not meant for the faint of heart. The beef is filling and the jalapeños give the dish a nice zip. On the sandwich scale: 5 stars out of 5.
The spring rolls were a nice side, but they can easily fulfill your desires as a featured item. They also offer a hearty texture.
The food is enough to make this quaint place, which held its grand opening on June 3 of this year, a go-to spot for locals. The customer service is the cherry-on-top. Manager Grace Vo and server An Pham were friendly, helpful with menu tips and fast. Oh, and the restaurant is super clean.
Other popular items are grilled chicken banh mi, Vietnamese beef stew, and pork spare rib soup, among others.
Carrot & Daikon Banh Mi is at 8511 Westminster Ave. in Garden Grove. Most of the eatery's regulars come from Westminster and Garden Grove, but we met others who'd come from around Orange County and beyond.
To order or for more information, visit carrotanddaikon.com or call 657-400-9041.