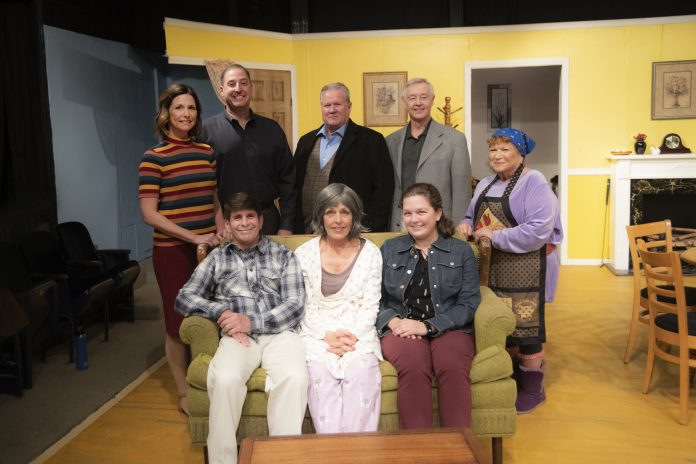 By Angela Hatcher
Westminster Community Playhouse presents Phil Olsen's Award-winning play, "A Nice Family Gathering," and under the direction of John Francis, this is one of Orange County's most hilarious and emotionally charged plays of the season.
WCP's A Nice Family Gathering is loaded with incredible comic performances, a spirited storyline, and perpetual running gags but also an element of genuineness that turns a heartwarming comedy into something that every family can relate to. What makes this laugh-out-loud comedy so tender is that the author brings authenticity and truth to his semi-autographical storyline, and Olsen's warm heartedness and strong sense of family is obviously behind all the humorous rapport.
A Nice Family Gathering has all the charm of a 1940s Cosmo Topper TV series entwined with the "warm cocoa and cozy throw" feeling of an annually shown holiday film. Ten months ago, Dad died unexpectedly, and this is the first Thanksgiving gathering without him… or, is it? Dad's ghost has decided to stick around, but middle child Carl (Eduardo Mora) is the only one with whom the old man communicates.
You see, Dad wants a favor, and he is unable to "move on" until his wish has been fulfilled. Dad (Michael Corcoran) and Mom (Sarah Hoeven) were married 41 years, and Dad never once told her that he loved her.
Even though Dad has run out of time, the clock is still ticking, and he has chosen the son who's felt belittled all his life to relay his message of love. As the play unfolds, and the adult kids arrive at Mom's, they bring their emotional baggage along with their luggage. Carl writes a column for a local newspaper and he drives a dump truck on the side. He just broke up with his long-time girlfriend, and now he's stuck with the ghost of his staunch father attached to his every move.
"You short-changed me during life, and now I can't get rid of you," Carl bellows in frustration. Carl's older brother, Michael (Eric Schiffer), the doctor and so-called "chosen one," comes to the gathering with plenty of sarcasm and a hormone-pumped, endlessly sobbing wife, Jill (Laura Lejuwaan), and then there is the sister, Stacy (Emily Turner), who may as well be invisible, herself, as she is the forgotten one in the family.
This is a strong and generous ensemble who give each other space and play off each other with skill and finesse. Sarah Hoeven owns the part of Mom, and her comedic timing is impeccable. Whether Mom is "losing it," or falling back into the role of Matriarch, Hoeven gives a consummate performance as the mom who sends the kids to the store on Thanksgiving to pick up turkey dogs, birdseed, and Sparkletts!
Eduardo Mora portrays Carl with a solid sense of who his character is, and Mora gives great credibility to his part. Mora positively shines as Carl. Eric Schiffer "brings Michael down a notch" when the script calls for it, and Schiffer is convincing and believable as the show-off big brother. Michael Corcoran provides the ghostly duty of Dad watching over his flock from afar while still needing to make things right.
Must mentions also go to Bill Carson, who does a knockout job as Jerry, Laura Lejuwaan whose Jill makes me want to cry with her, Emily Turner who, as Stacy, surprises us all, and a shout out to Kip Hogan's great portrayal of the outspoken neighbor.
"A Nice Family Gathering"
Westminster Community Playhouse
7272 Maple St., Westminster
Call 714-893-8626
Runs through Nov. 24