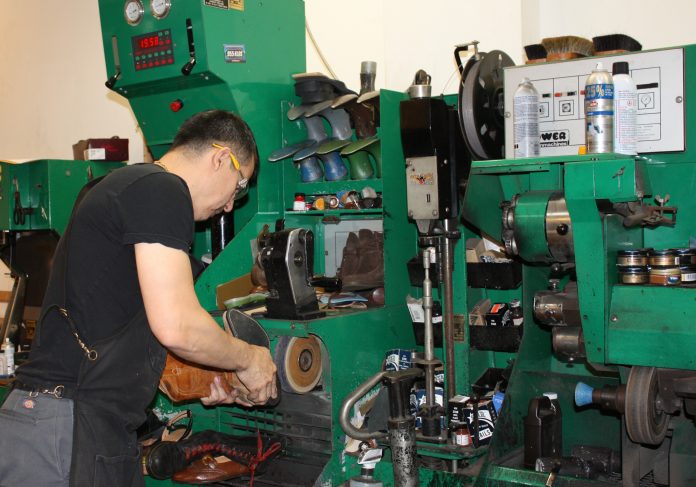 Formerly a custom-shoe maker, Carlos Peña now uses his talent to repair shoes, leather-wear and more. The Little Cobbler store in Westminster Mall has existed for 23 years, with Peña at the helm since 2010. His humble attitude and focus on quality work make him the soul behind the soles.
"I used to work with a friend making custom-made shoes for women and men," said Peña. "We served people with problem feet, wide sizes, unique shoes, disabilities, feet that were different sizes, one leg shorter and more. Now, I refer those jobs out. They are too time-consuming to do with all of the repair work I have."
Repairs must be done quickly, making it impossible to spend long hours making custom shoes.
Peña's shop is busy. His days are filled repairing shoes, including: replacing heels, repairing elastic, shoe-stretching, sole-replacement, insole replacement, stitching, cleaning, polishing and freshening-up. He can fix men's and women's shoes, plus specialty items such as ballroom dance shoes, toe-shoes, moccasins, western boots, work boots, ice skate boots, roller skate boots and bowling shoes.
He repairs leather clothing including pants, vests and motorcycle jackets that have tears or zipper problems. Leather conditioning service is available, too. He sells shoe inserts and parts, along with anything else you can imagine is needed for footwear maintenance.
Belt-resizing, including punching new holes, re-gluing and repair of breaks is great for those who have belts that match outfits. Peña can sew patches onto jackets.
"Sometimes customers come in with new shoes and want me to put protective soles on them to prolong the life," explained Peña. "I can add non-skid soles, do waterproofing, especially on high-end shoes."
His work saves his customers money on their expensive footwear, purses and other items. Recently, he was seen re-stitching part of a handbag, then shortening the strap on a purse. Some of his clients are short in stature, and typical purse straps are too long. He can alter the length to make the purse more comfortable and functional.
"I am looking for an apprentice," said Peña. "The person can be new or experienced and will work part-time which may work into full time. In this industry, the old cobblers are retiring, but nobody wants to take over. It's mostly immigrants doing this work… There are no schools here for this kind of work. You have to apprentice."
When Peña was 30 he became an apprentice. He was always fixing things and had mechanical and artistic abilities which were helpful in this line of work.  He is looking for someone with those same skills.
"I feel good when I do a good job," said Peña. "I like when people pick up their item and they didn't expect that it could look so good."
"The hardest thing I do is repair cheap shoes. The material is not strong enough to work with and can disintegrate. Sometimes the item should be thrown away, but a customer can be sentimental and want it repaired."
In winter months, he is working on repairs to boots and winter clothing. In the summer, it's flip flops and sandals that need attention. From October to March, he is at his busiest.
The Little Cobbler is open Monday through Saturday, 10 a.m. to 7 p.m. The store is in the Westminster Mall on the lower level between Target and Macy's. No appointments are necessary; walk-ins are welcome. Some jobs can be done while you wait. He can be reached at 714-892-4654.