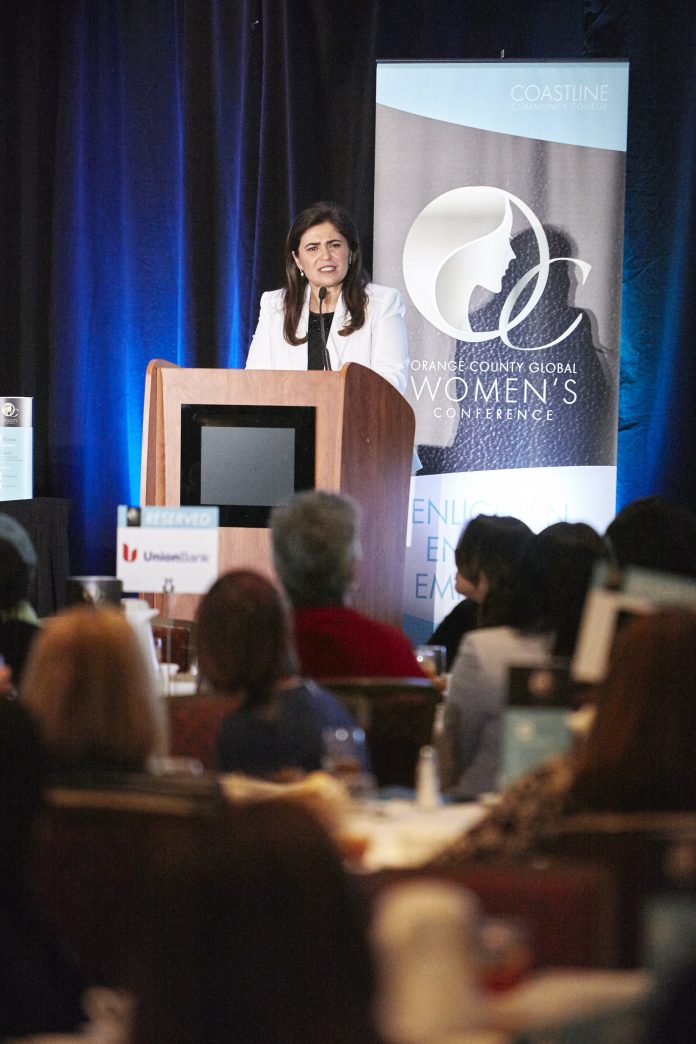 The Coastline Community College Foundation hosted their third annual Orange County Global Women's Conference on May 29 at the Hilton Irvine/Orange County Airport. The conference celebrates women in leadership and fosters mentorship for women leaders of tomorrow. "Gaining Momentum" was this year's theme for the event, which promotes the progress that women are making in the workforce in all industries.
Conference esteemed list of panelists included: Parisa Khosravi, former Senior V.P. for CNN Worldwide. Conference participants include, the Honorable Consul General of Peru, Liliana Cino, Cynthia Abercrombie, Executive V.P., Chief Risk Officer, BANC of California, Rhonda Davenport Johnson, National Director of Retail Sales & Services, Comerica Bank, Gianna Drake-Kerrison, First Vice President, Wealth Management, UBS Financial Services, Inc., Silvia Ichar, Founder/Publisher, Para Todos Magazine, Carmela Ma, CCIM, CIPS, Founder/President, CJM Associates, Inc., Betty Uribe, Ed.D, Executive Vice President of California Bank and Trust, and The Honorable Hamid Asghar Khan, Consul General of Pakistan, Los Angeles.
The goal of the OC Global Women's Conference is to help women of all backgrounds reach their greatest potential through mentoring, networking opportunities, and meaningful discussions that tackle key issues women face in today's business world.
"It is an honor for the Coastline Community College Foundation to provide a platform for women to have thoughtful discussions about leadership, "says Coastline Community College Foundation Executive Director, Mariam Khosravani. "Our esteemed panelists are today's leaders that so many women can use as role models—I'm proud to be part of this event."
Conference sessions included the following topics:
Women in Leadership: Leveling the Playing Field- A candid dialog on being a powerful woman in today's business world.
The Power of Her Purse: Celebrating the empowerment of women and recognizing the influence women have on the economy.
What it Takes to Cover the World: A candid presentation from Parisa Khosravi, Former Vice President for CNN Worldwide, where she shared her professional experience as a CNN reporter.
The Cultural Perception of Women in International Business: A personal and in-depth panelist dialog about their cultural heritage, values, and success strategies for women wanting to affect change in a greater global community.
Change Agents Promoting Diversity & Inclusion: A discussion about inclusivity in the workplace and what panelist organizations are doing to support diversity and advance change.
In addition to panels, attendees were also able to indulge in a beauty lounge where they received complimentary massages and beauty consultations at the Nordstrom's Beauty Lounge & Marketplace.
"This event provides inspiration to so many women in Orange County," says Nhadira Brathwaite Johnson, Director of Marketing and Public Relations. "It feels wonderful to be part of an initiative that promote the mentorship of tomorrow's leaders."