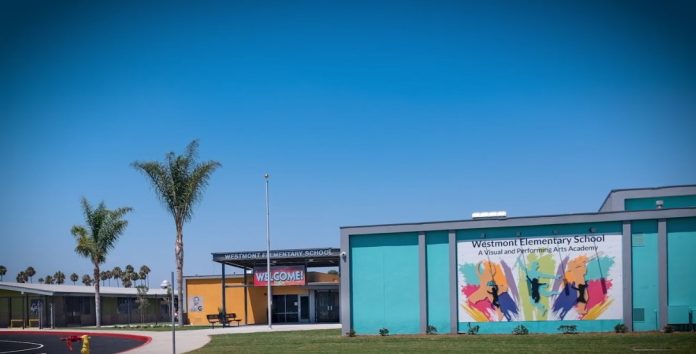 By Loreen Berlin
The Westmont Elementary School campus, in Westminster, has been transformed with a renovation for the 2019-2020 school year.
The site has undergone a major transformation, made possible through the passage of Measure R General Obligation Bonds in 2016, which provides funds to modernize campuses and improve student safety.
Measure R bonds were supported by 59-percent of the Ocean View School District (OVSD) for $169 million in November of 2016.
"Our Board of Trustees and district leadership are grateful for the tremendous support of the staff, unions, parents, and community that have provided for our modernization projects district-wide," said Westmont Principal Sue Broderson.
Part of the Ocean View School District, Westmont Visual and Performing Arts (VAPA) Academy is an elementary school located in Westminster that serves students from Preschool to fifth grade.
"As we continue to grow and expand as a VAPA Academy, students will be challenged to build upon their creative and academic skills; all children TK-fifth grade participate in music, dance, and movement classes. Theatre arts and visual arts are integrated into common core curriculum to build upon and expand learning," Broderson said.  "Students in fourth and fifth grade have the option of learning to play a band instrument during the day, in addition to participating in the 'Disney Musical in Schools Production,' participating in a robotic elective, or working on a visual art project. There are so many ways to be creative at Westmont."
Ocean View School District Superintendent Dr. Carol Hansen said, "We're proud to offer a choice in instructional focus to our Ocean View families and Westmont's VAPA Academy, which exposes children to the core curriculum with a focus on art, music, and theater."
Westmont was built in 1962 and has been rebranded as the Visual and Performing Arts Academy, offering a comprehensive array of arts instruction.
Dr. Hansen said that Westmont's brightly colored campus has new infrastructure, cabinetry, windows, flooring, and specialized rooms for dance, band, and art and that the multi-purpose room is equipped with new, stage-lighting, curtains, and flexible seating.
"Each wing of the campus is identified by the name of a famous artist, including Walt Disney, Vincent van Gogh, and Johann Sebastian Bach," said Hansen. "In addition, one wing of the campus has been modified to welcome preschoolers, featuring age-appropriate furniture, restrooms, and a sparkling new playground."