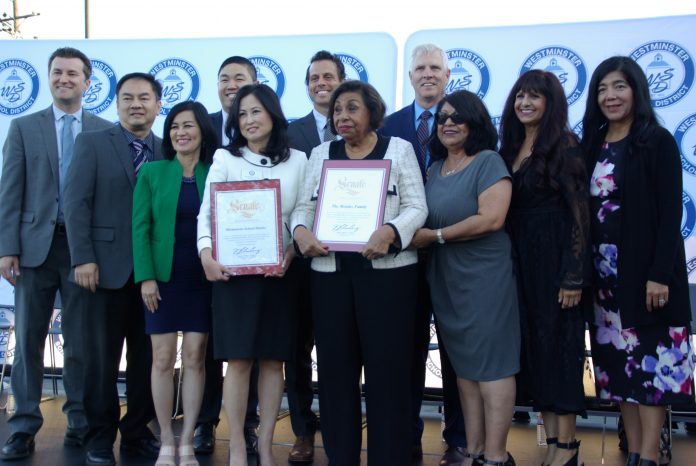 By Loreen Berlin
It took 11 years from 1943 to 1954 for California and throughout the nation to end segregation in schools.
The Mendez family led the way in Orange County.
Sylvia Mendez, then 11-years-old, was the oldest of the Mendezes three children.
Back in 1943, Sylvia's parents, Gonzalo and Felicitas Mendez, tried to enroll their children, Sylvia, Geronimo and Gonzalo in the neighborhood school: "The 17th Street School."
But school officials said no.
Mr. and Mrs. Mendez went to court.
And to show how important this case was, it was decided in an "en banc" session (French, meaning "in bench") where the case was heard before all of the judges of the court, before an entire bench, rather than just a panel of judges.
En banc is used for unusually complex cases or a case considered of great importance.
So, winning the case, for the Mendez family, and other ethnicities, was unheard of at the time, which was evidenced in a ceremony at the Johnson Middle School gym last week, when speakers, of a wide ethnic range acknowledged that without the Mendez vs. the Board of Education case, their children and they themselves would not have been able to attend local schools that became available to them as a result of the Mendez's effort.
In 1954, the United States Supreme Court officially invalidated "separate but equal" arrangements in its Brown vs. Brown Board of Education decision.
Wednesday, Oct. 2, 2019, another record was set.
Johnson, next door to the Westminster School District office, unveiled a monument in honor of the Mendez family.
"This is such an honor," said Sylvia Mendez. "No one said 'gracias' back then, but look at the gracias now, with all of you here today. California was the first state to be integrated, long before anyone else. I'm so proud to have the gymnasium here at the District Office named after me and I know my father would be proud. It took a village to make all of this possible; I'm honored and humbled."
Superintendent Dr. Cyndi Paik said, "The court case ended segregation nation-wide and changed the course of history; the School District has come a long way. We are individuals, human beings who are connected together and all have the same rights and freedom."
Students from Willmore and DeMille elementary schools danced, sang and spoke in Spanish, English and Vietnamese. Two students who are fluent in three languages each gave a presentation using the three languages. They are part of the language immersion program in the Westminster School District and were extremely well prepared and flawless in their part of the program.
"It's my honor to extend congratulations to the Westminster School District in the dedication of the district's main office to the Mendez family," said Mayor Tri Ta. "A few years ago, City Council and I approved naming the Walking Trail on Hoover Street as the Mendez Historical Trail and we also approved the Mendez Park and Monument project and are continuing to seek state funding for completion of that project at the corners of Westminster Avenue and Olive Street. The Mendez family made the difference not only for the City of Westminster but for the entire nation and we sincerely thank them for their dedication and fight for equality in education."
Speaker Councilman Sergio Contreras noted that he attended Westminster schools throughout his academic career. He also served as the School Board president and continues to live in Westminster with his wife and children.
"I'm proud to say that my children both attend Westminster schools. The Westminster School Board's legacy is one of transformation, growth and success," he said. "From the days of school segregation that were brought to an end because of the heroic story of the Mendez family, to the current day, we are one of the highest-ranked school districts in Orange County and our story is one of perseverance. Honoring the Mendez family for their contribution to our city and ending segregation in schools throughout the nation is the right thing to do and shines a light on our past to ensure it isn't repeated and it showcases bravery with tributes, respect and honor. I'm proud to share the stage with my friend today, Sylvia Mendez, and I thank you for your contributions to our city and country and today, we also honor your parents for their courage in the face of adversity."
A Superintendent's Citizens Advisory Committee of 12 members throughout the community was tasked with identifying a district facility to name in honor of the Mendez family. The Board of Education approved both of the recommendations brought forth by the committee of both the District Office and Johnson Intermediate School Gymnasium and also included their own Board Room at the district, said Frances Nguyen, Vice President of the board.
Master of Ceremonies was Assistant Superintendent Arturo Jimenez. Special presentations were made by Westminster School District Board President Khanh Nguyen; Board member Jamison Power; State Senator Tom Umberg; Orange County Supervisor Andrew Do; and Garden Grove Councilwoman Kim Nguyen.
Sylvia Mendez is a Presidential Medal of Freedom Recipient and Civil Rights Activist Award winner.